Halton MPPs in New Roles as Wynne Shuffles Cabinet
Facing a provincial election where her political fortunes are in doubt, Ontario Premier Kathleen Wynne is trying to put a fresh coat of red paint on the Liberal team with
Facing a provincial election where her political fortunes are in doubt, Ontario Premier Kathleen Wynne is trying to put a fresh coat of red paint on the Liberal team with a cabinet shuffle, bringing in some new faces while promoting existing cabinet ministers from the Halton-Peel area.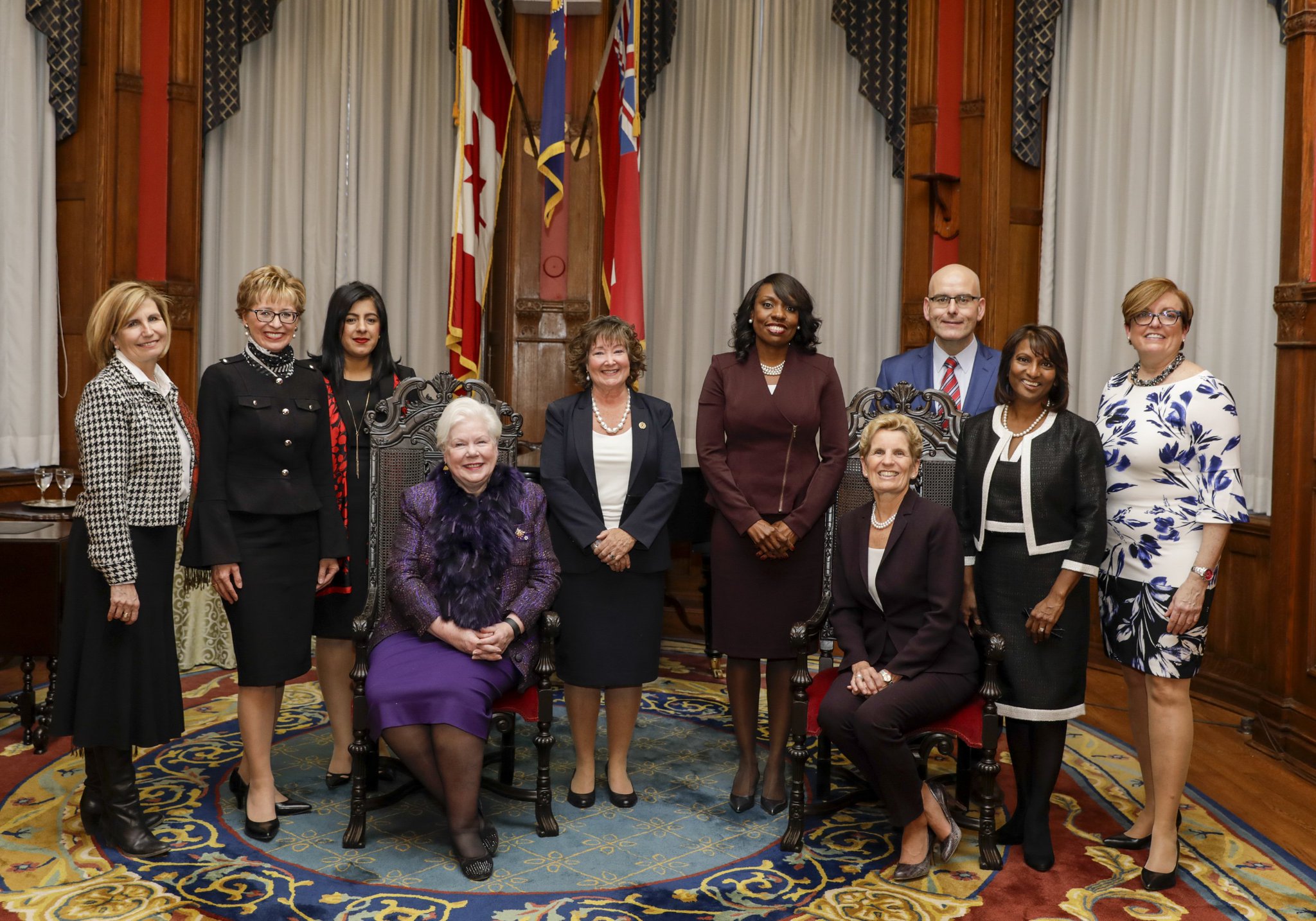 New provincial Minister of Status of Women, Brampton MPP Harinder Malhi (third from left), and new Minister of Education Indira Naidoo-Harris and new President of Treasury Board Eleanor McMahon (first and second from right beside Premier Wynne)
Three promotions of note are for female backbench Liberal MPPs: Daiene Vernile (Kitchener-Centre) who becomes the new Minister of Tourism and Culture, Nathalie Des Rosiers (Ottawa-Vanier) who becomes the Minister of Natural Resources, and Brampton-Springdale MPP Harinder Malhi is the new Minister of Status of Women.
Two local MPPs who were already in cabinet received new assignments. Halton MPP Indira Naidoo-Harris becomes the new Minister of Education – she remains Minister Responsible for Early Years and Child Care – and Burlington MPP Eleanor McMahon leaves Tourism and Culture to become the President of the Treasury Board and Minister Responsible for Digital Government.
Born in South Africa, Naidoo-Harris is also a former journalist with NBC, PBS, CTV, CBC, TVO, and OMNI Television, having lived in Halton for over 20 years.
McMahon was elected in 2014, becoming the first Liberal to represent Burlington in 70 years. In 2008, she founded the Share The Road Cycling Coalition, after her husband Greg (an OPP sergeant) was tragically killed while cycling by a driver with five convictions for driving under suspension.
Other cabinet changes include:
Mitzie Hunter (Scarborough Guildwood), who was the Education Minister, becomes Minister of Advanced Education and Skills Development.
Kathryn McGarry (Cambridge MPP) moves from the Ministry of Natural Resources to become the new Minister of Transportation. She replaced the previous Transportation Minister, Steven Del Duca, who was well known for being at every photo op and press conference imaginable touting all the government's work in expanding public transit (even if it's opening a new Tim Hortons at a GO station).
Del Duca himself, who represents the riding of Vaughan, will move from transportation to the Ministry of Economic Development and Growth.
The cabinet shuffle comes on the heels of a number of retirement announcements from several of Wynne's veteran cabinet members, who announced they were not running for re-election in 2018. Usually when this happens, the pending retirees see the writing on the wall for their political futures and decided greener pastures were awaiting around the corner.
But looking at this from the other perspective, the shuffle also gives Wynne an opportunity to bring some fresh blood into her government, and by promoting three female rookie MPPs she can play the gender equity card as she attempt to lead the Ontario Liberals to an unprecedented fifth term in government.
Wynne may feel bolstered by recently shifting public opinion more in favour of the increased minimum wage, but poll numbers continue to say otherwise. A recent Forum Research poll shows that the Ontario PC party is miles ahead with 43 percent of the vote, followed by the Liberals and Ontario NDP with 24 percent each. That translates into a massive PC majority government of 88 seats, with the NDP taking 24 seats and the Liberals in third place with 12.
How will this last cabinet shuffle before the election affect the outcome of the June 7 election? We'll see once the campaign kicks off in earnest.
Follow me on Twitter @thekantastic
Photo via Twitter/@Kathleen_Wynne
insauga's Editorial Standards and Policies
advertising